click thumbs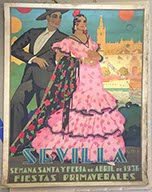 super large
"Savilla Fiestas Primaverales" Vintage Festival Poster
, 1935, , ,


Condition:On thick paper, toned, otherwise generally fair to good condition, with some grubbiness at the edges. Tear on right edge 1 1/2 in into image, with minor tears elsewhere on right edge.
Sheet: 39 by 27 1/2 in. (98 x 69 cm.)
Framing: Sold unframed
Note: One of the most famous fairs in Spain dating back to 1846 held in the autonomous region of Andalusia. The flamenco dress is a typical Andalusian dress. One of the last fairs held before the Spanish Civil War saw a three year hiatus.
Estimates*
US $
Euro
UK pound
Swiss Fr
100-100000
102-102000
86-86000
104-104000
| | |
| --- | --- |
| | * Estimates do not include 28% buyer's premium (see Terms and Conditions). NR means no reserve (minimum bid $50 unless otherwise posted). Estimates in other currencies based on conversion rates of Euro: 1.02 , British Pound 0.86, Swiss Fr 1.04. All conversion values are approximate with the final cost determined in dollars. workcode: aa-2001b-211 |