click thumbs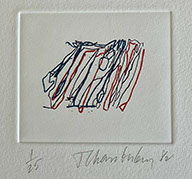 super large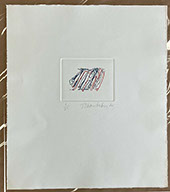 super large
super large
super large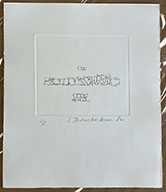 super large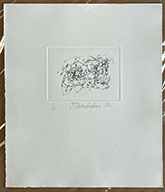 super large
super large
super large
"Ten Coconut Portfolio" Set Of Six Etchings, One Printed In Colors In Original Portfolio Box
etchings, one printed in two colors, on German Etching paper, 1982, each signed in pencil, dated '82', frontispiece also signed by the artist, numbered 1/25 (total edition included 3 A.P. suites and 3 P.P. suites), as published by Hudson River Editions,Garnerville, New York, printed by Susan Mallozzi,


Condition: In very fine condition, never framed, original glassine interleaves between etchings, the portfolio in fine condition.
Sheet: 17 by 15 in. (42 x 38 cm.) box 19 1/4 by 16 1/2 (49 x 41 cm.)
Plate: plates vary in size
Framing: Sold unframed
Note: An early graphic project by the pop related artist who explored chaotic subject matter with traditional artistic compositional techniques. The color etching uses well known color harmonies of red with blue undertones in conjunction with blue with red undertones to create an aesthetically pleasing composition without regard to the subject matter.
The first portfolio from the edition was well cared for by an apparently discerning collector.
Estimates*
US $
Euro
UK pound
Swiss Fr
1500-2000
1530-2040
1260-1680
1560-2080
| | |
| --- | --- |
| | * Estimates do not include 28% buyer's premium (see Terms and Conditions). NR means no reserve (minimum bid $50 unless otherwise posted). Estimates in other currencies based on conversion rates of Euro: 1.02 , British Pound 0.84, Swiss Fr 1.04. All conversion values are approximate with the final cost determined in dollars. workcode: jc-2001f-82 |