click thumbs
super large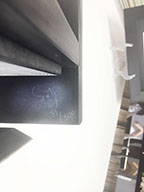 super large
super large
super large
Related To "Multiple V", From "Jai Alai" Series
wood, painted metal, 1969, incised signature, possibly spurious, in the base, numbered 33/300,


Condition:In very fine condition.
Size: 19.68 x 6 x 6 in. (50 x 15 x 15 cm.)
Note: This work cannot be guaranteed as part of the original edition.
Estimates*
US $
Euro
UK pound
Swiss Fr
800-1200
816-1224
672-1008
832-1248
| | |
| --- | --- |
| | * Estimates do not include 28% buyer's premium (see Terms and Conditions). NR means no reserve (minimum bid $50 unless otherwise posted). Estimates in other currencies based on conversion rates of Euro: 1.02 , British Pound 0.84, Swiss Fr 1.04. All conversion values are approximate with the final cost determined in dollars. workcode: js-2001g-12 |