click thumbs
super large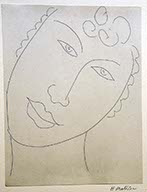 super large
super large
super large
super large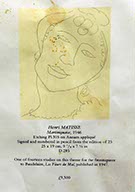 super large
super large
super large
(Frontispiece) From "Les Fluers Du Mal", Text By Charles Baudelaire
etching applied to a support sheet (chine applique), 1947, signed with an estate signature stamp, a rare proof aside from the edition of 300 published in the book,,


Condition:In generally good condition, with some minor foxing barely noticeable on the support sheet.
Sheet: 16 by 11 1/2 in. (40 x 28 cm.)
Plate: 9 1/2 by 7 1/4 in (23 x 18 cm.)
References: Recorded and illustrated in the text by Claude Duthuit on the original graphics used in portfolios and books, No. 19.
Provenance: Pierre Matisse Gallery, New York
Framing: Framed in accordance with accepted conservation standards, acid free mats and mounts, removable hinging.
Note: A proof aside from the book edition.

The "Les Fluers du Mal" project was originally commissioned for a Lyon bibliophile society around 1936 but the project experienced many delays before being published in 1947. Originally Matisse had created a number of crayon lithographs for the illustrations. However these were damaged and unusable. So the illustrations in the book are, with one exception, heliogravure reproductions of the original drawings which Matisse had used for the basis of the crayon drawings for the lithography. In the end these reproductions were used as the main illustrations. However Matisse did create one original etching for the frontispiece, as here. While there was no signed edition, apparently examples did pass into the market through the agency of his son, Pierre Matisse, who operated a gallery in New York for many years.
Matisse was fond of using thin paper for his etchings in order to get a clean thin line. However the paper needed to be mounted on a support sheet for practical reasons. The annotations, including signatures, for the edition were usually on these support sheets.
Estimates*
US $
Euro
UK pound
Swiss Fr
3000-5000 3000,
2970-4950
2520-4200
2970-4950
| | |
| --- | --- |
| | * Estimates do not include 25% buyer's premium (see Terms and Conditions). NR means no reserve (minimum bid $50 unless otherwise posted). Estimates in other currencies based on conversion rates of Euro: 0.99 , British Pound 0.84, Swiss Fr 0.99. All conversion values are approximate with the final cost determined in dollars. workcode: hm-2001a-59 |